Jyothsna (Jyo) is our art teacher and has received a Bachelor's degree in Economics, Political Science and Public Administration from AMS College for Women at the University of Osmania, in India. She has completed her certification at GTCC in Early Childhood Education.
Jyothsna (Jyo) Ramesh
Professional
BS Econ, Political Science & Public Administration
Certification in Early Childhood Education, GTCC
Position at KinderNest
Teacher
Which Classes do you teach?
Art
Purple is my favorite color
My favorite sport is soccer.
I like animals...from a distance.
Hobbies
Singing
Dancing
Reading
Watching movies
Drawing
Painting
Gardening
Talking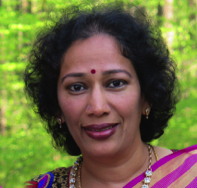 One of my favorite sports to watch is gymnastics.